One of the quickest and most efficient ways to improve your painting is to study privately with a qualified instructor. In the case of my approach to watercolor fine art, design and composition, I prefer to come to the students home studio. In this way, I am the consultant for studio layout,
lighting and arrangement as well as the instructor on such things as technique, color mixing, paint, drawing, computer file management and photo manipulation.
I work with teens to adults and with beginning to advanced painters and tailor my instruction to the specific needs of the student. I am a representational painter not one known for non objective or abstract painting, I am as much a coach as a teacher or instructor.
Students can select the type of subjects that they want to paint. I encourage students to rely on their personal experience and to develop their "story" based on that experience captured in photographs. Their painting is their story.
Flexible scheduling allows you to pick the time and day that is best for you. Classes can be scheduled 9-5, Monday thru Saturday. For cost savings, you can take lessons with a friend.
Areas of study include: drawing from life and still life and watercolor painting on a variety of painting surfaces.
Group Lessons / Workshops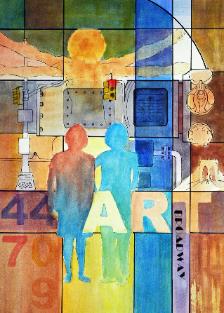 UPCOMING WORKSHOP
Fun with Watercolor with an eye on design Workshop @ Canton Museum of Art
Tuesday, June 12, 2018 at 10:00 AM – Friday, June 15, 2018 at 4:00 PM (EDT)
Click here to sign up and to reserve your space for this informative workshop.
Contact the Canton Museum of Art for directions and hotel information.

This 4-day indoor workshop is a one of a kind experience for all levels of watercolor artists.  This workshop will be led by Ted Lawson in the classrooms of the CMA School of Art adjacent to the galleries of the Canton Museum of Art.  Students will have the experience of exploring innovative and traditional drawing and watercolor techniques and approaches to help develop and enhance their personal painting styles.  Exercises, lectures, demonstrations and critiques will enable students to develop a watercolor painting that not only embodies their own personal narrative but the elements and principles of design as well.  Students will paint each day using what was seen and learned while it is fresh in mind.  Daily critiques reinforce the learning process.
Painting the color square
Painting with single hue in three values
Painting with range of hues and values
Improving drawing skills using a grid
Elements and principles of Design
Developing a study before painting
Painting the story
Workshops like this provide a concentrated design / watercolor experience.
Here is what former students are saying
I loved taking this class and hope to take more.
Thank you so much for all the wonderful information! Very useful info. Golden mean, gridding, use of software. Thanks for fresh perspectives.
I have taken quite a few classes and Ted's class has been Excellent; most professional and an excellent instructor. I would love to take more courses from Ted.