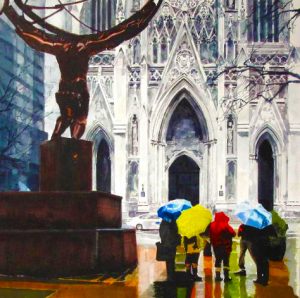 Not all exhibits are created equal.  Some are essential and some are just down-right important.  The May Show at the North Canton Public Library Little Art Gallery and The Ohio Watercolor Society Watercolor Ohio are two that remain for this exhibit season.  Each of these falls into one of those categories.
The May Show is a feature that has been around for 75 years and I have been accepted and won awards there in the last 15 of those years. It is the unofficial kick off of the exhibit season in my little pond, Stark County.  It is where friends and artists meet to compete.  It is the field of rivalry among local fine artists.  The Ohio Watercolor Society (OWS) Watercolor Ohio holds a different importance.  OWS is a prestigious art society.  It too is a field of rivalry but the outreach is statewide and regional rather than local.  Competition is a collateral benefit but exhibiting helps forward the state of watercolor painting.  OWS has been around since since 1978 and I have been a part of it since 2001 and a signature member since 2006.
I was reluctant to report about these two exhibits any earlier than this.  The entry deadlines for both exhibits were very close together in early April.  I met the entry deadline and in both of  these cases and I submitted the same painting, 30 Rock III to both. Because I am competitive, I want to be sure to present my best work in order to be "juried-in".   30 Rock III has a lot of promise.  It had been critiqued a couple of times with my art group and it won second prize when I entered it into the Akron Society of Artists member show last October.
Partial results are in.  The May Show turned around quickly.  The notification letter followed a couple of days following the entry date.  Notification is made via a self addressed stamped envelope.  My heart rate always rises when I get a notification letter just like when I was in college receiving an acceptance letter or grade report.  There is always that uncertainty.  I have been rejected in the past when I was certain of acceptance and accepted when I was sure that I didn't have a chance.  Good news, I made the show!! But, I had to wait for the judges verdict.  I was hoping for the top prize, best of show.  The opening reception of the May Show was April 30 at the Little Art Gallery where the awards were announced.  More good news.   I won second prize in the watercolor category.  It is always a happy time to be recognized for my skill and creativity.  Dang, I wanted the top prize.  I'll have to wait till next time.  I hope I "get in".
The OWS jury process is different than the local May Show.  Digital images are submitted to the OWS website.  Artwork for the May Show is hand delivered to the gallery.  The OWS show draws a larger number of entries than the May Show.  I submitted my entry to OWS in early April at the same time as the May Show but the notification wasn't scheduled until the May 3.  So, last week I got notification for Watercolor Ohio 2017 via email.  Again, my heart rate rose for the same reason as other such notices.  I don't think it raised quite as high as it did for the May Show because the painting is such a strong watercolor piece being judged by a watercolor jurist.  Nevertheless, I made the OWS show.  Now the waiting begins all over.  Judging for awards follows hand delivery to the exhibit venue which is Columbus Ohio early in June.  Seems like there is a lot of entering and waiting.
Stay tuned for updates.